Camp at Kentucky Speedway
With 7 scenic campgrounds, we have a place for everyone.Visit www.kentuckyspeedway.com/camping for more information.
Our spacious and scenic campsites can be reserved for event weekends. Sites in our Millionaire's Row, Backstretch and Lakeside campgrounds located outside the track are available with electric service. Traditional campers will find comfort in our Bourbon Street, Hawk's Landing, and Ponderosa campgrounds. Those wishing to be in heart of the event action can reserve a site in our Infield Campground.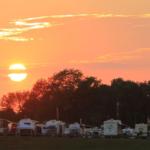 Lakeside (Electric)
A Quaint Setting for Reliving Your Favorite Race Moments! Lakeside Campground is one of three sites that feature access to electrical service. The cozy, quaint setting provides one of the best views of our magnificent Kentucky Tower Grandstand when its lit at night. The campground is an ideal spot for reliving your favorite race moments with family and friends. Lakeside campground also provides a great setting for guests seeking a quieter, family atmosphere.